GMT pallet, fiber pallet for block machine, brick making machine pallet, latest technology pallet
---
MT Brick pallet is made from GMT material, which has been widely used in automobile industry (such as bumper, motor base), construction industry (like formwork) and etc. GMT stands for glass mat reinforced thermoplastics, and this material has been named "the most environmental friendly material in 21st century" for its rigidity, toughness, and recyclable characteristics.
Our GMT brick pallet made from this material can be as solid as reinforced concrete, because the fiber in the pallet is structured like reinforced concrete.
The raw material of GMT brick pallet is very cheaper and higher performance fiberglass mate reinforced thurmoplastic compared with PVC pallet steel pallet and wooden pallet
---
Our GMT brick pallet has following advantages:
Light weight: The density of GMT brick pallet is just 1.2g/cm.just 60-70% of pvc pallet, more ligher than other pallet, light weight can reduce the freight and can load more pieces pallets.
Impact resistant: You can hit it whatever you want while the thickness is more than 3mm.
Less bending: Our GMT brick pallet can meet the presssion demands of every brands brick making machine in the world.
Higher vibration thansmit capacity: The concrete brick can be made very tightness on our GMT brick pallet.
waterproof and corrosion resistant: GMT brick pallet is a new kind of plastic pallet. so it's waterproof and corrosion resistant.
---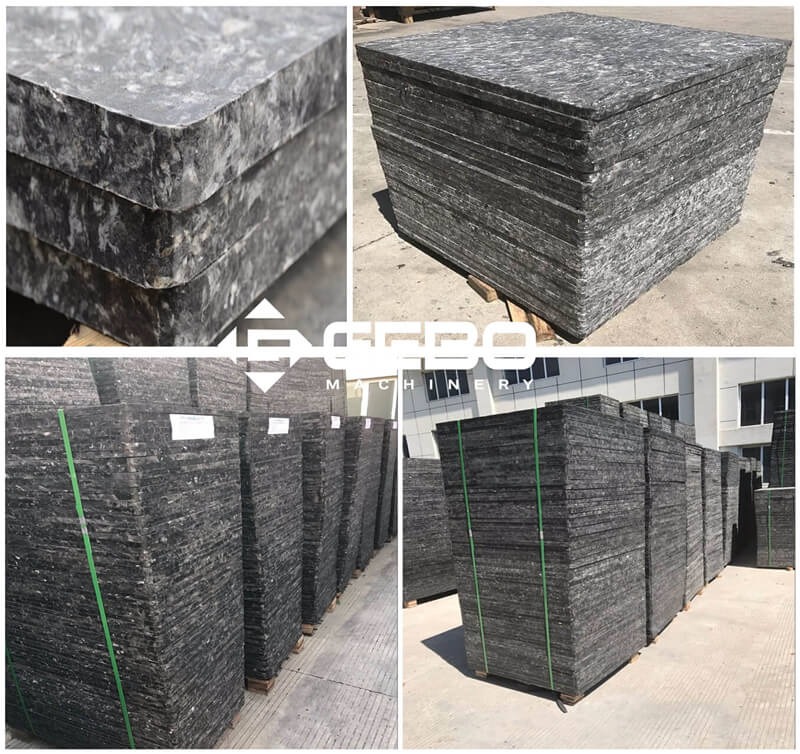 GMT Fiber Pallet Video:


GMT fiber block pallet VS PVC brick pallet quality contrast by hammer hit, block machine pallet: